Los Angeles, CA
• 12 de junio del 2015
Church of Scientology Forum Highlights Environmental Danger

NASA scientists from JPL raise awareness of environmental threats at World Environment Day event hosted by the Church of Scientology Los Angeles
Los Angeles—Individuals must be aware and take action to resolve urgent environmental issues. That was the message from two prominent NASA scientific experts, Dr. Joshua Fisher and Laura Faye Tenenbaum of NASA's Jet Propulsion Laboratory (JPL), at the Church of Scientology forum and open house on June 3 in advance of World Environment Day, established by the United Nation in 1972, and celebrated each year on June 5 to enlist cooperation from all countries and peoples "to work together for the preservation and enhancement of the human environment."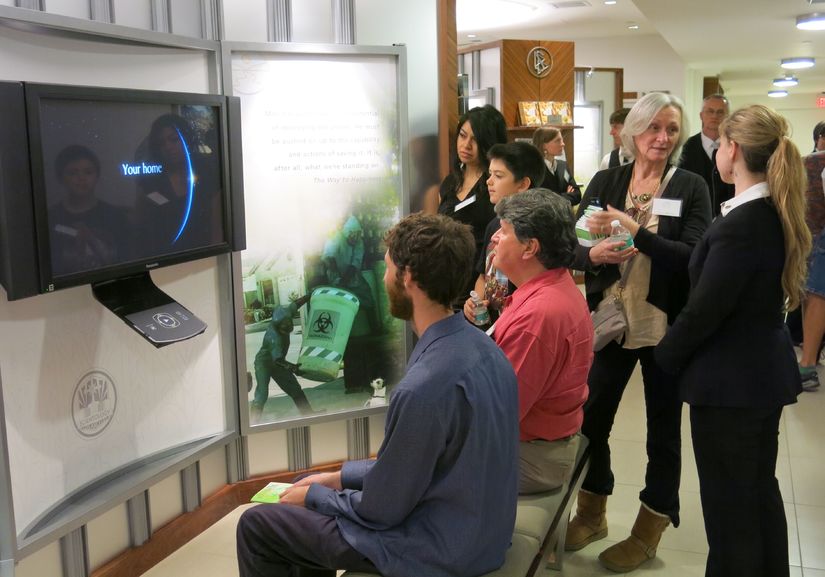 Dr. Fisher, climate scientist at JPL and associate project scientist for UCLA's Joint Institute for Regional Earth System Science and Engineering (JIFRESSE), presented an in-depth scientific briefing on the climate in simple, easy-to-understand terms for the layman. Riveting the audience with his PowerPoint presentation, Dr. Fisher gave a comprehensive report on the causes and dangers affecting our planet.

Ms. Tenenbaum, member of the Earth Science Communications Team at NASA's Jet Propulsion Laboratory and faculty of the Physical Science Department of Glendale Community College, briefed attendees on various satellites built at JPL, their functions and how they give us vital information to analyze the climate and propose programs to preserve the environment. She concluded her talk with actions individuals can take to make a positive change in the environment.
"You are important to other people.
You are listened to. You can influence others."  
The final element was a presentation by Joni Ginsberg, Executive Director of The Way to Happiness Foundation, on the urgency with which all of us must address environmental issues today and the danger of failing to do so. Ms. Ginsberg noted that we all have to take more responsibility to contribute to the solutions and involve others as well. She played the public service announcement "Safeguard and Improve Your Environment," The Way to Happiness Precept 12, which brings home the point with a clever depiction of how current environmental issues impact the individual personally, and how this can be used to raise awareness and activate the community to confront and handle these problems.
The Way to Happiness is a nonreligious moral code based entirely on common sense, written in 1981 by L. Ron Hubbard, who makes the point in the chapter entitled "Happiness" that "Trying to survive in a chaotic, dishonest and generally immoral society is difficult," and points out, "You are important to other people. You are listened to. You can influence others."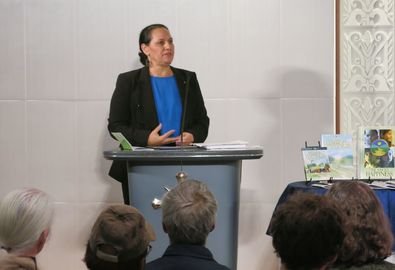 Forum guests learned of an entire array of tools, including The Way to Happiness booklets, public service announcements and the feature-length The Way to Happiness book-on-film, and a virtual The Way to Happiness classroom available online and through an iPad or iPhone App that anyone can use to make an impact on those around him, and "to point the way to a less dangerous and happier life."

"It was such an interesting presentation on climate change and from such knowledgeable people," said one of the forum guests. "There is more of a situation with our environment than I thought," said another who also expressed interest in volunteering to address this issue.
Another was happy to see The Way to Happiness presented as a tool to address the problem, saying "I have quite recently been introduced to The Way to Happiness and have been using the precepts to mentor young adults. I find it very effective," and he plans to introduce many more to its precepts through educational work with youth.
The Church of Scientology Los Angeles holds frequent forums, conferences and open house events as part of its commitment to serve the needs of the community, including an upcoming forum to observe the June 26 International Day Against Drug Abuse and Illicit Trafficking.
The Church of Scientology of Los Angeles, an Ideal Scientology Organization, serves as a home for the entire community—a meeting ground of cooperative effort to uplift citizens of all denominations.
The Scientology religion was founded by author and philosopher L. Ron Hubbard. The first Church of Scientology was formed in Los Angeles in 1954 and the religion has expanded to more than 11,000 Churches, Missions and affiliated groups, with millions of members in 167 countries.
CONTACT:
Church of Scientology Media Relations
mediarelations@churchofscientology.net
(323) 960-3500 phone
(323) 960-3508 fax